Nap's Thriftway
Recipes
https://www.napssupermarket.com/Recipes/Detail/2534/Pumpkin_Walnut_Cheesecake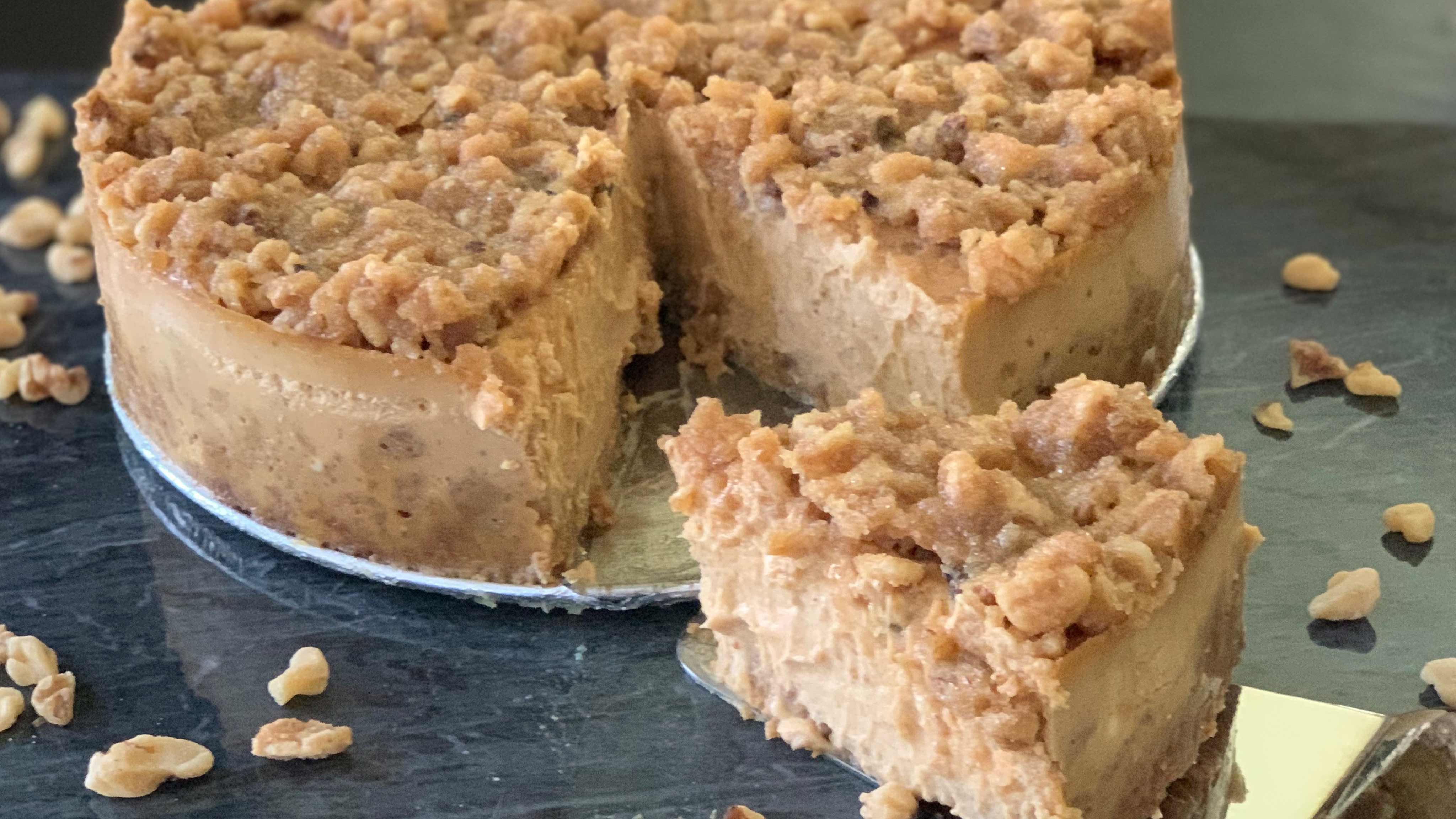 Pumpkin Walnut Cheesecake
Yield: 12-14 servings
Directions:
Separate a 9- inch springform pan into two pieces. Line bottom of the pan with two layers of foil. Attach the springform sides to the bottom of the pan.

Spray the inside of the pan with nonstick cooking spray. Wrap the bottom and outsides of the pan with two layers of foil to seal the pan.

Optional: as an added precaution, place the prepared pan inside an oven bag (16 in x 17.5 in) folding the oven bag sides down and around to the height of the pan to keep the cheesecake sealed during the water bath. (the water bath prevents the cheesecake from cracking in the middle)

Begin to boil a large pot of water for the water bath.

CRUST:
Blend crumbs, sugar and butter in a medium bowl. Press over bottom and 1- inch up the sides of the prepared springfoam pan. Chill while you prepare the filling and topping.

WALNUT TOPPING:
In a medium bowl, combine butter, brown sugar, flour and walnuts. Using a pastry cutter or fork, cut butter into the mixture until coarse crumbs appear. Set aside.

CHEESECAKE:
Preheat oven to 350 degrees F

Beat softened cream cheese until smooth. Gradually add sugars, beating to mix well. Beat in eggs one at a time until light and fluffy. Blend in pumpkin, pie spice and cream at low speed. Pour into prepared crust.

Place the pan into a larger roasting pan and place in the oven. Pour boiling water into the larger pan until the water is halfway up the sides of the cheesecake pan being careful not to splash water onto the cheesecake. Bake for 1 hour.

Open oven - the cheesecake will be jiggly in the center - this is normal. Crumble walnut topping evenly over the top of the cheesecake. Bake for 8 minutes longer and turn off oven heat. Leave the oven door closed and let the cheesecake rest for one hour. Carefully lift the pan out of the water bath and place on a cooling rack to continue cooling. Once the cheesecake is completely cool, pull the oven bag up over the cheesecake to seal and refrigerate for at least 6 hours.

Photo and food styling by Webstop

Water bath tips adapted from www.mybakingaddiction.com
Please note that some ingredients and brands may not be available in every store.
Nap's Thriftway
Recipes
https://www.napssupermarket.com/Recipes/Detail/2534/