Nap's Thriftway
Recipes
https://www.napssupermarket.com/Recipes/Detail/8417/Beet_and_Arugula_Salad_with_Spiced_Nuts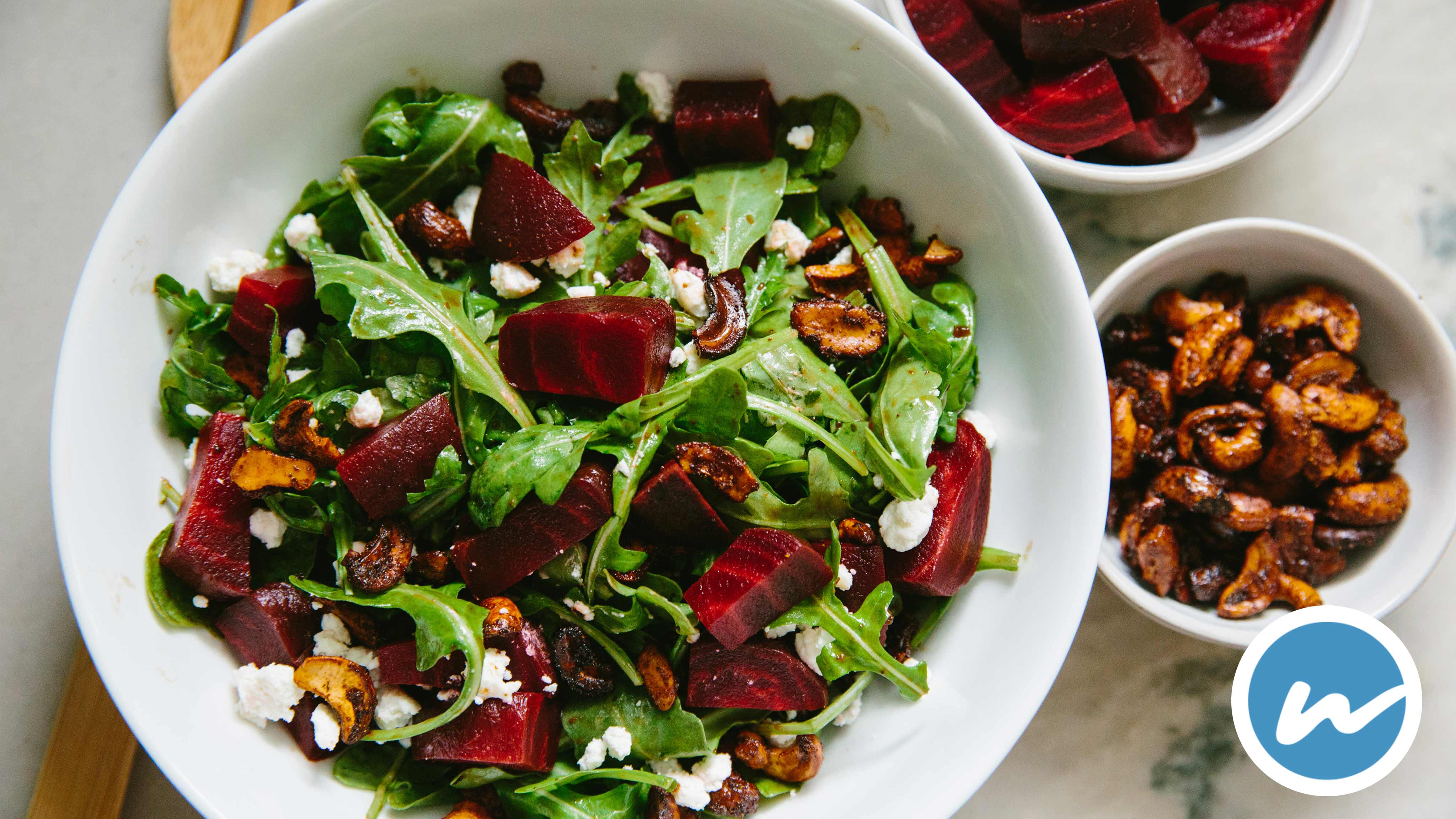 Beet and Arugula Salad with Spiced Nuts
Low Cholesterol. Fiber Rich. Diabetic Friendly. Nutritious and Delicious.

Yield: 2 servings
Preparation Time: 20 min; Cook: 30 min
Ingredients
For the nuts:

2
cups

raw cashews, pecans or almonds

1/4
cup

olive oil

1
tablespoon

maple syrup

1
tablespoon

soy sauce

1
teaspoon

ground cumin

1
teaspoon

garlic powder

1
teaspoon

sea salt

1/2
teaspoon

smoked paprika

1/4
teaspoon

ground red pepper

For the dressing:

1/2
cup

balsamic vinegar

1/2
cup

extra virgin olive oil

1
tablespoon

dijon mustard

2
tablespoons

honey

1/4
teaspoon

sea salt

1/8
teaspoon

freshly ground black pepper

For the salad:

1
cup

cooked beets, diced*

1/4
cup

spiced nuts, chopped (see recipe below)

1/4
cup

crumbled goat cheese

4
cups

fresh arugula

3
tablespoons

balsamic dressing (see recipe below)
Nutrition Facts
Yield: 2 servings
Approximate Nutrient Content per serving:
Calories:
400
Calories From Fat:
315
Total Fat:
35.6g
Saturated Fat:
4g
Cholesterol:
3mg
Sodium:
435mg
Total Carbohydrates:
16g
Dietary Fiber:
5g
Sugars:
10.3g
Protein:
7.5g
Directions:
Preheat the oven to 350 degrees F. Mix together all the ingredients for the nuts and pour onto a rimmed baking sheet lined with parchment paper. Bake for 20 minutes, turning over with spatula halfway through. Allow to cool completely before removing from pan. Nuts can be stored at room temperature for up to 2 weeks in an air tight container.

While the nuts are roasting, mix together all ingredients for dressing. Whisk until combined. Store in air tight container in refrigerator until ready to use. Dressing can be stored in refrigerator for 3-5 days.

To make the salad:
Toss together diced beets, cooled nut mixture, crumbled goat cheese and arugula. Add balsamic dressing right before serving.

Note:
*If using raw beets:
Trim the tops off the beets, leaving 2 inches of the stem. Wash and dry beets. In a large pot add water, vinegar, and salt. Add beets, bring water to a boil, and reduce to a simmer. Cook beets until fork tender, about 30 minutes. Peel once cooled. Store additional beets in refrigerator for later use.

Most of the ingredients for this salad can be prepared ahead of time and put together right before serving for a quick and easy meal.

Recipe, photo and food styling by Webstop

Please note that some ingredients and brands may not be available in every store.
Nap's Thriftway Recipes
https://www.napssupermarket.com/Recipes/Detail/8417/