Nap's Thriftway
Recipes
https://www.napssupermarket.com/Recipes/Detail/7975/Spiced_Sweet_Potato_Pie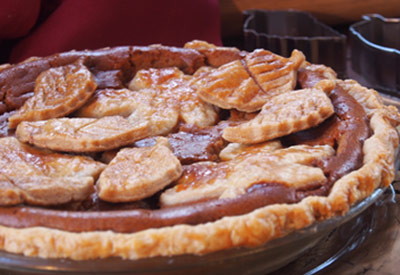 Spiced Sweet Potato Pie
Yield: 8 servings
Directions:
Preheat oven to 400 degrees F

Wrap sweet potatoes in aluminum foil and bake for 1 hour or until cooked through. Remove from oven when done and remove the aluminum foil allowing the sweet potatoes to cool.

Lower oven temperature to 350 degrees F

Prepare homemade pie crusts or follow directions on package for refrigerated or frozen pie crusts.

After sweet potatoes have cooled, remove skins and discard. Place cooked potato in a blender or use a handheld mixer with a whisk attachment and beat until smooth.

Add butter, brown sugar, heavy cream, eggs, flour, vanilla, cinnamon, nutmeg, cloves, ginger and cardamom to the mixture. Mix well to combine.

If using homemade pie crust, on a floured work surface, roll out one of the mounds of chilled dough into a circle 12- inches in diameter. Gently press the dough into a 9 by 2- inch pie dish.

Using your fingers, tuck in the dough and make it smooth. Use a paring knife to trim excess dough from the edges. Crimp the dough to form a decorative edge.

Spread filling into the prepared pie crust. Brush the edges of the crust with egg wash and bake for 60 minutes or until the center of the sweet potato pie jiggles slightly.

When done, place the pie on a cooling rack and allow to cool for 1 hour.

Decorative acorns and leaves:
Place the remaining dough onto a floured work surface and roll the chilled dough into a circle 12- inches in diameter.

Using decorative cutters, press down on the rolled out dough to cut out the shapes. Place the cutouts onto a parchment lined baking sheet with at least 1/2- inch space between the cutouts. Brush with egg wash.

In a preheated 350 degree F oven, bake until the cutouts are golden, about 15 to 20 minutes. Transfer the cutouts to a wire rack and let cool. Arrange the decorative cutouts on top of the baked and cooled pie.
Photo and food styling by Webstop
Please note that some ingredients and brands may not be available in every store.
Nap's Thriftway
Recipes
https://www.napssupermarket.com/Recipes/Detail/7975/