Nap's Thriftway
Recipes
https://www.napssupermarket.com/Recipes/Detail/5124/Caramel_Apple_Pie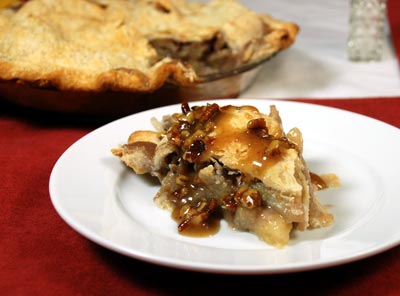 Caramel Apple Pie
A wonderful variation on America's favorite pie!
Customer Rating:
1 Ratings 2
Yield: Serves 8
Ingredients
Caramel Sauce:

1/2
cup

coarsely chopped pecans

1/2
cup

packed brown sugar

1
Tablespoon

cornstarch

3
Tablespoons

water

1/3
cup

half and half

2
Tablespoons

light corn syrup

2
Tablespoons

butter or margarine

1/2
teaspoon

vanilla

Pie:

3
Tablespoons

flour

1/2
teaspoon

cinnamon

1/2
cup

granulated sugar

5

medium to large apples, peeled, cored and sliced thin (7 to 8 cups)

1/2
cup

golden raisins

Crust for two crust pie (make your own or buy a refrigerated or frozen crust)
Directions:
Preheat oven to 425 degrees F.

Toast the pecan pieces in a frying pan over medium low heat, stirring frequently, until they begin to color and become fragrant, about 7 minutes. Pour out of the pan and set aside.

In a small saucepan, stir together the brown sugar and cornstarch. Stir in water, half and half and corn syrup. Cook over medium heat, stirring until the mixture begins to boil.

Cook and stir 2 minutes longer, then stir in the toasted pecans, butter and vanilla and set aside to cool.

In a small dish, stir together flour, cinnamon and granulated sugar. In a large bowl combine the sliced apples and raisins; pour the cinnamon mixture over and toss gently until the apple pieces are coated.

Fit one crust into a 9-inch pie plate and trim excess dough.

Pour the apple mixture into the pie shell. Spoon just half of the caramel-pecan mixture over the apples, then top with the second crust, folding the extra top crust under the rim of the bottom crust, then crimping the two together.

Make eight radial slashes in the top crust and cut a vent hole in the center also.

Bake for 15 minutes, then lower the temperature to 325 degrees F. and bake an additional 50 to 60 minutes, until the top is nicely brown and the apples are perfectly tender (poke the apples with a fork through the vent hole.)

If the edges are browning too fast, cover them with strips of aluminum foil.

Remove the pie from the oven and while it's still hot, spoon and drizzle the remaining caramel-nut mixture onto the crust in a thin layer.

If the sauce goes on too thickly, it won't set up, so keep it to a thin layer. Allow the pie to cool before serving.


Photo and food styling by Webstop
Please note that some ingredients and brands may not be available in every store.
Nap's Thriftway
Recipes
https://www.napssupermarket.com/Recipes/Detail/5124/